Back to School Photo Ideas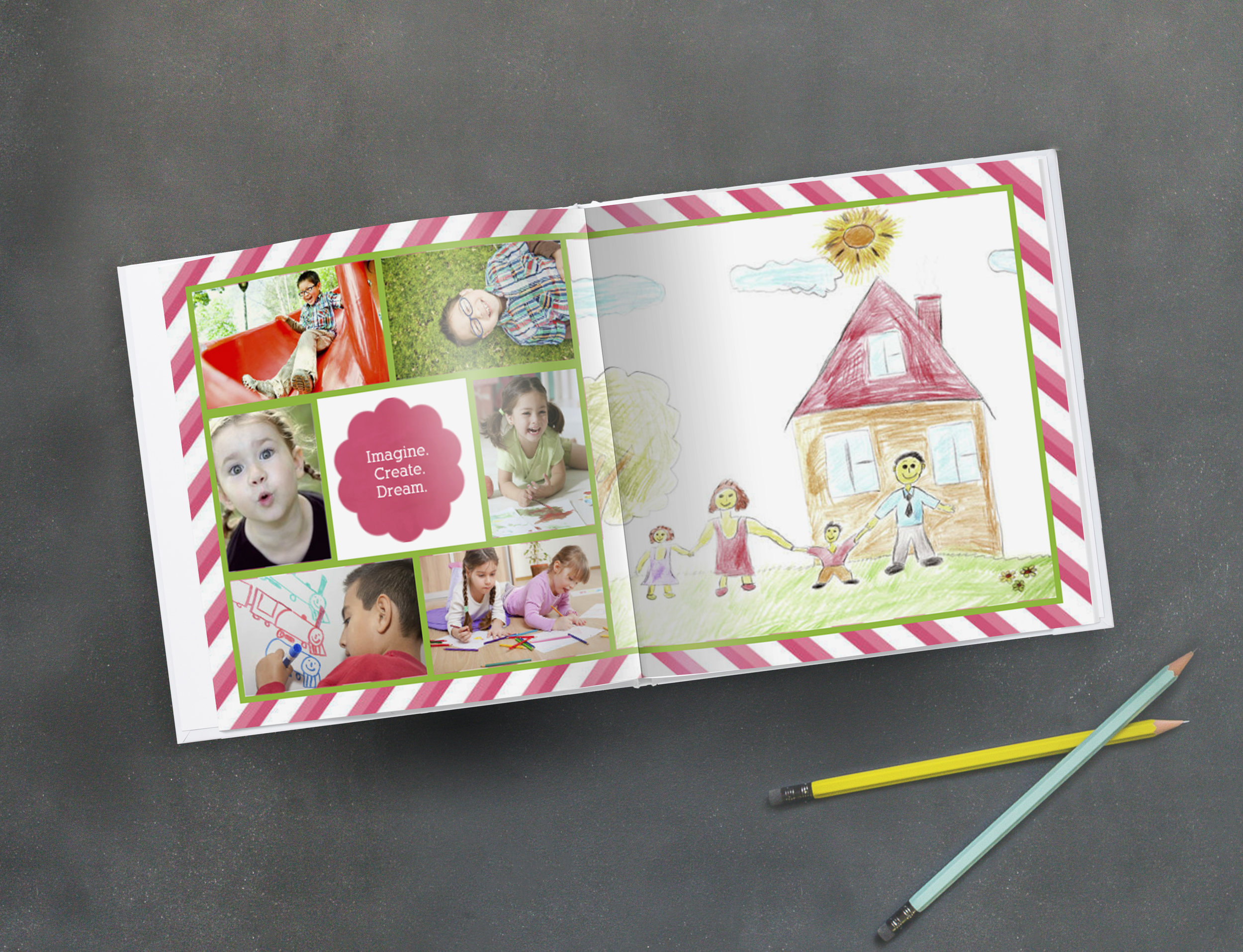 Back to School. Say it again, people. Back! To! School!
I don't know about you guys, but I am excited for school to start! This summer has been a great one. We had camp, followed by a trip to the White House – that was exciting. The first thing we saw were ninjas on the roof and SWAT guys racing out the front gates to settle down an angry mob. Ah, election year.
After DC, we hit the beach, followed by a week at the lake house, Aunt Margee's 70th (70's the new 40), and finally another week at the beach and a ton of mommy time. If you need a paper star, I can cut one out like nobody's business. Did I mention I am psyched for school to start?
After such a stupendous summer we've got a lot of happy memories… and a lot of awesome pictures. Pictures on my phone, pictures on my partner's phone, pictures on Grandma's' phone – and don't even get me started about all the pictures on our actual cameras. So now what? Enter your new favorite teacher, Mrs. Mixbook. All you have to do is download your photos and Mrs. Mixbook will do the rest. Welcome back to school!
Mrs. Mixbook loves to make photo books about the week at the beach, ninjas on the roof and all sorts of other things. Mark those mosquito bites. Treasure long days of sunshine exploring the wilderness between who knows where and another big rock. These are the halcyon days of summer and they won't be back for a whole year. The new Summer Travel theme is the perfect way to capture these memories- packed with fun summer stickers like seashells, popsicles, and rays of sun.
And if Mrs. Mixbook isn't your homeroom teacher, then you must meet Mr. Mixbook. A big fan of making a statement, Mr. Mixbook is a great teacher for creating something special. Let's say you got a great shot of the whole family out and smiling for Aunt Margee's 70th. And just for giggles, let's say you're all wearing Hawaiian shirts and fisherman's caps. (No judgement. Families are weird.) Well wouldn't it be swell to follow up such a momentous occasion with something really magical? Especially if (and I'm not saying you did this, but sometimes it does happen) you forgot to get Aunt Margee a birthday gift in all the hustle and bustle of traveling with four kids. Bam! Mr. Mixbook will take care of that for you with a canvas print. Printed, in the mail, and on Aunt Margee's wall before you can say Hawaiian shirt debacle. Now that's something.
Lastly, if this is your summer where you're just about to pack up the car and take your baby to college, you've got to meet our new intern Cool Hipster Mixbook. She speaks French by the way and she drives a convertible. I know. It's crazy. The thing is, Cool Hipster Mixbook knows what these youngsters like and she's an intern so, she's here to help. Give her a handful of your grad's summer photos – Coachella with friends, snoozing on the sofa with the dog, riding bikes along the boardwalk – and Cool Hipster Mixbook can turn it into professional-quality photo prints that your off-to-college-not-so-little-one can hang on her dorm room wall. Or, Mosaics are cool, fast, easy to create, and just the right size for a tiny dorm room.  Just ask our intern. Plus, what better way to help her remember that you do exist, and that you're paying for her to study and not (ahem) that other stuff, then to have your sweet faces on her desk. Cool Hipster Mixbook says this is what she likes to call devious, but legit.
Summer is out. School is in. And Mixbook is here to help you trade in your photos for memories that last and last and last and…