There's nothing more mind-blowing than your baby turning one. The first year starts out so slowly, you think they'll always be an infant. Then out of nowhere they're turning one – and either already walking or on the verge. You're so puffed up with pride, you want to share it with all your favorite people in the world. And lucky for you, all YOUR favorite people in the world are still all that matters. Your baby's first birthday is all about you sharing an incredible milestone with friends and family. The theme is up to you. The activities are up to you. And your baby will either smile or cry or both regardless.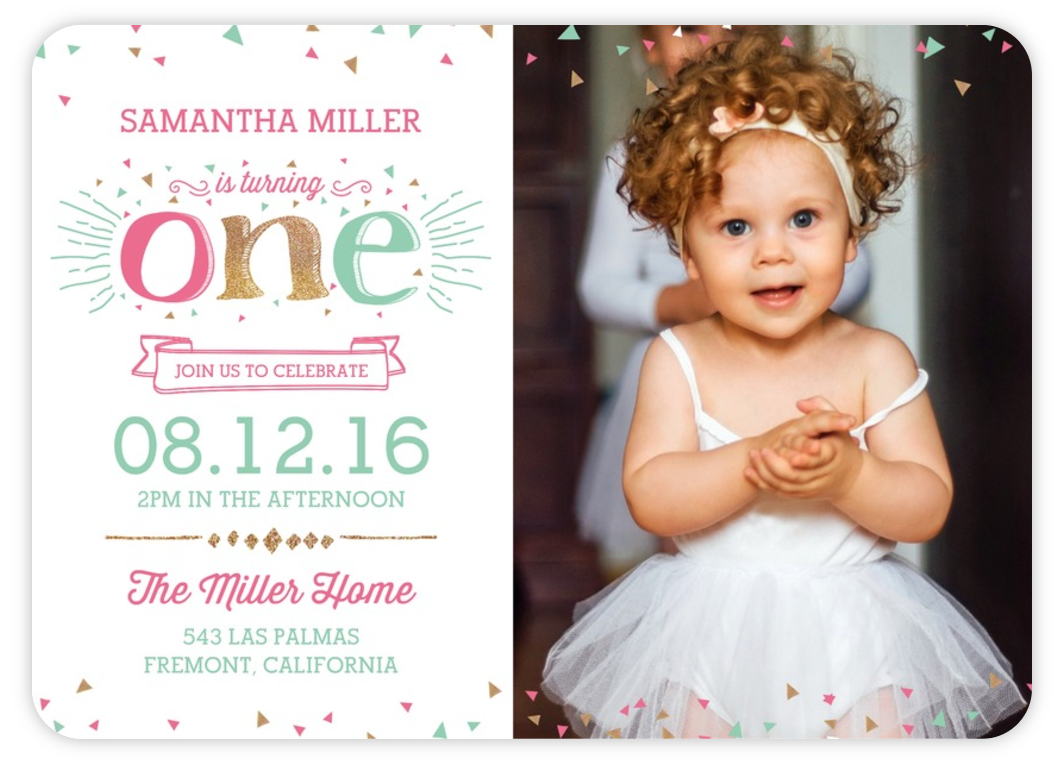 So make it what you want – what you feel is representative of your child's personality. I look back and remember going all-out on a luau-themed birthday party for my first son's first birthday. I think we (ridiculously) spent nearly a hundred dollars on a custom-made cake in the shape of a surfboard. It was absolutely delicious – and our friends were glad to partake in a dessert that was far superior to your standard supermarket cake (which we've had every year since), but it's one of those things you look back on and laugh about. We also went crazy with decorations and tropical cocktails. Definitely glad we went all-in for cocktails, but we really could've saved on the cake and the décor. Most importantly, it was great to have a wonderful day with our grown-up friends – and have a beautiful invitation to put in the baby book. Yet another reminder that your baby's first birthday celebration is more about marking a special day for you as parents than for your baby.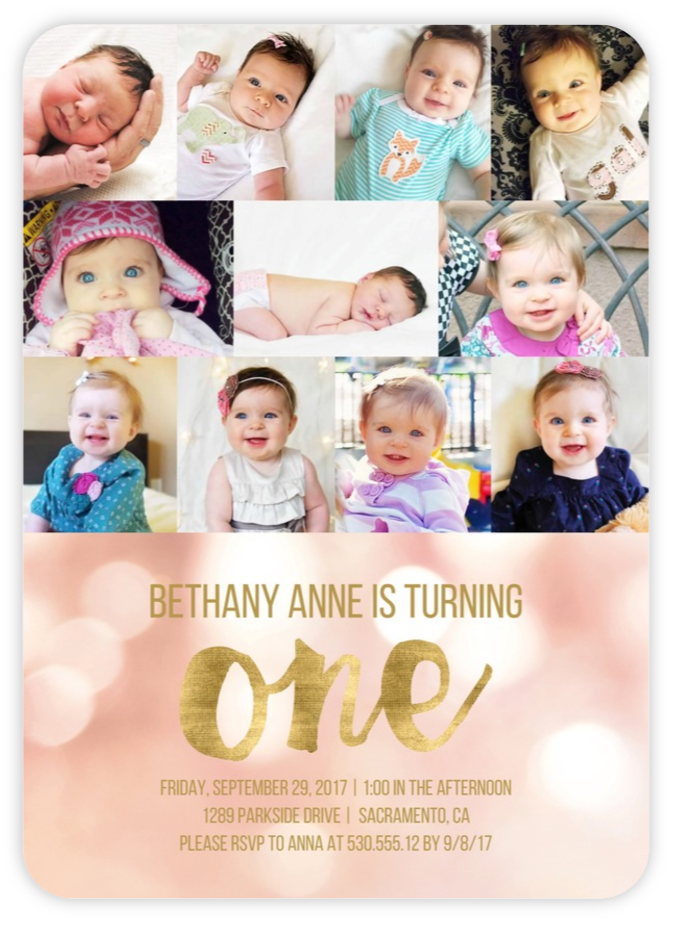 Whatever theme you choose, start with a great invitation to set the scene, then carry it through to the party. The key is to keep it simple (you are still new parents, after all), but also to keep guests happy. Here are a few ways to take baby-appropriate themes and make them enjoyable for your friends and family members attending the party.
Ice Cream Social Whether your little one likes chocolate or vanilla, there's nothing cuter than lots of ice cream and endless toppings pulled together with practically no effort. Serve up lots of desserts featuring berries…turns out raspberries and blueberries look particularly beautiful against cheesecake or panna cotta. Wrap up silverware in craft napkins with white bowties strung through natural twine. It's equally economical and adorable. Pick and choose from some of these other inspired ideas, remembering to keep it all manageable. Your guests will enjoy one or two thoughtful gestures as much (or more, I say) as ten picture-perfect party features.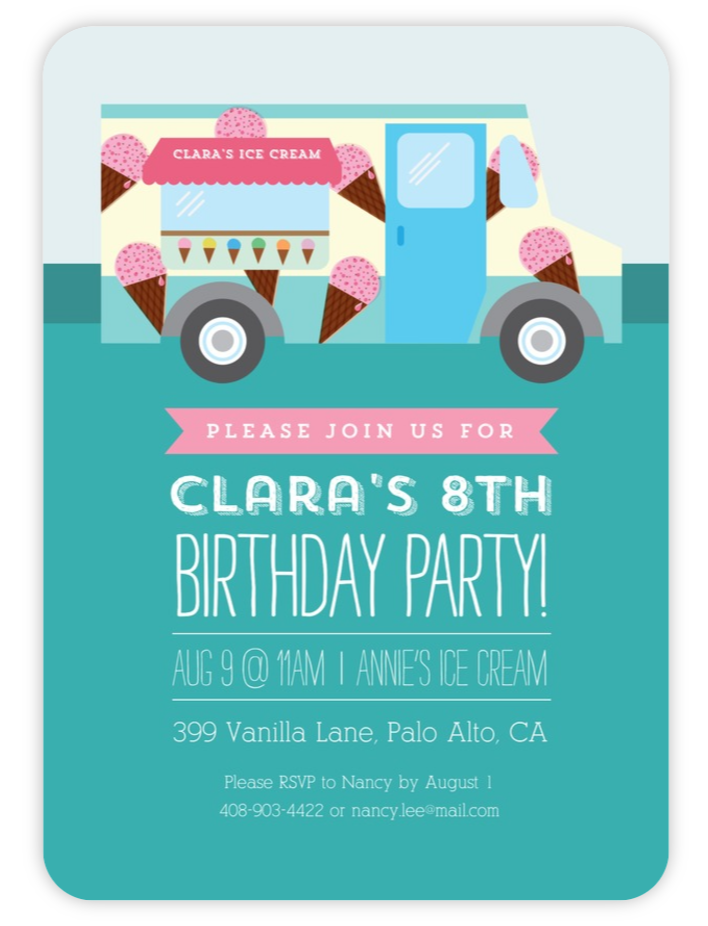 Happy Elephant For whatever reason, baby elephants are ridiculously adorable. I happen to be obsessed with gray, so I'm an easy target when it comes to the inherent cuteness of pachyderms. But how can you argue with the magnetism of an amorphous, squishy four-footed mammal sporting a long trunk and floppy ears? Make your little peanut's first birthday elephant-themed by sending out Mixbook's Happy Elephant birthday invitation. Specify on the invitation that you'd love baby books or gifts that feature elephants; from the classic Babar books to Mo Willems' Elephant and Piggie series, you will be thrilled to build a wonderful collection of elephant-themed baby goods. Serve up an elephant cake or cookies and create a celebration to remember.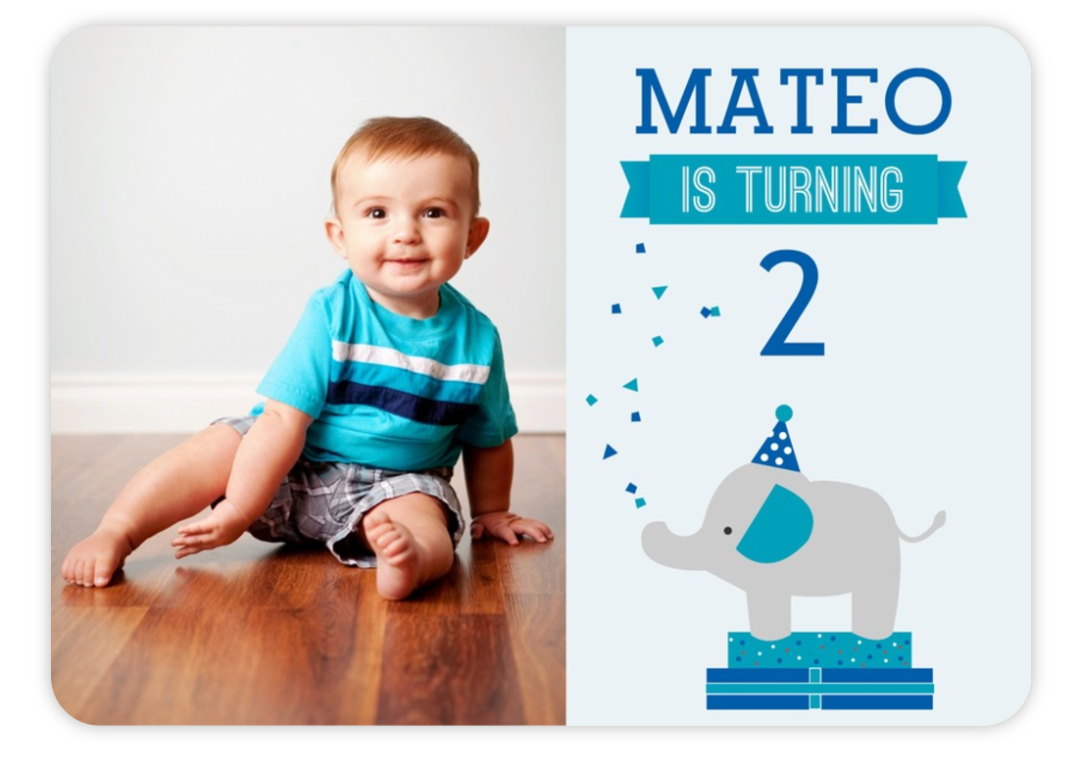 Party inspiration board from "The Cake Blog"
Wild Child If you've got a little party animal on your hands – you know, the kind of baby who doesn't even know how he got back to his crib last night – you might want to take your party theme into the wild. Mixbook's Wild Rumpus Birthday or Animal Friends invitations are ideal for celebrating your little animal. Keep it simple by decorating with balloons, serving up a birthday cake with sweet baby animals, and creating a fun animal-cracker dipping station for other little people attending the party.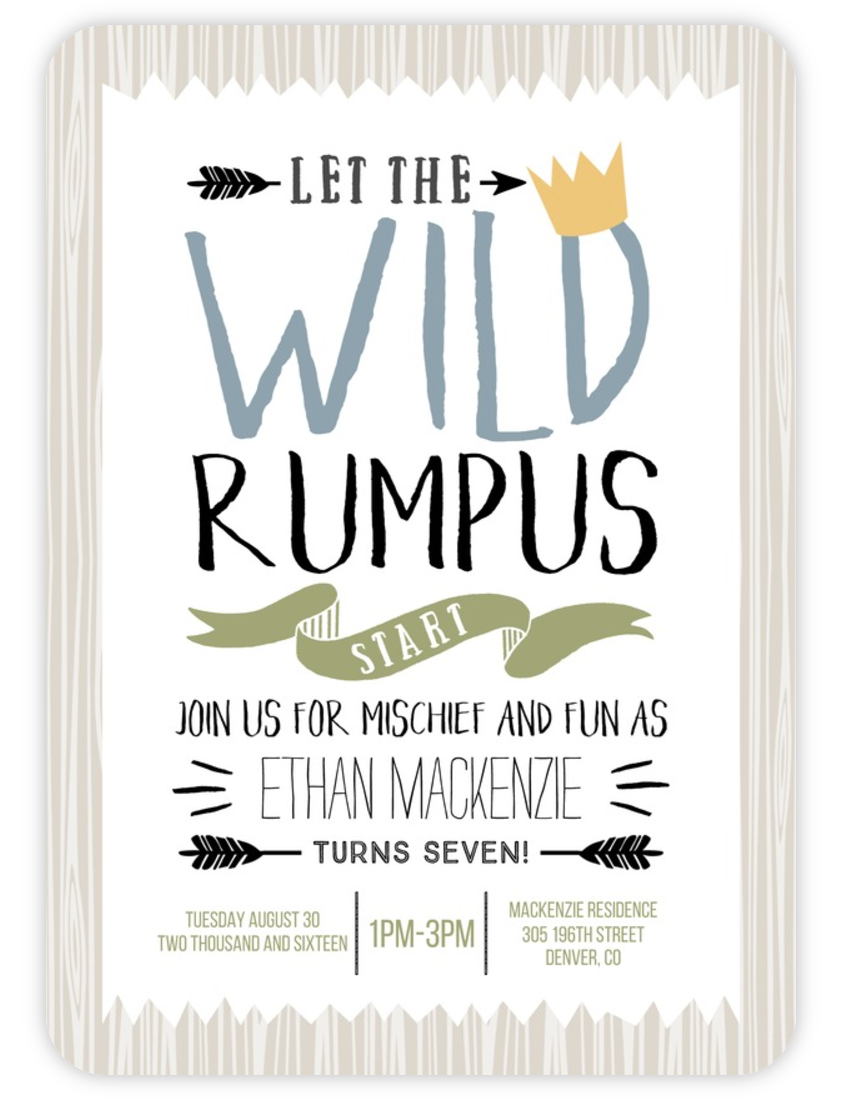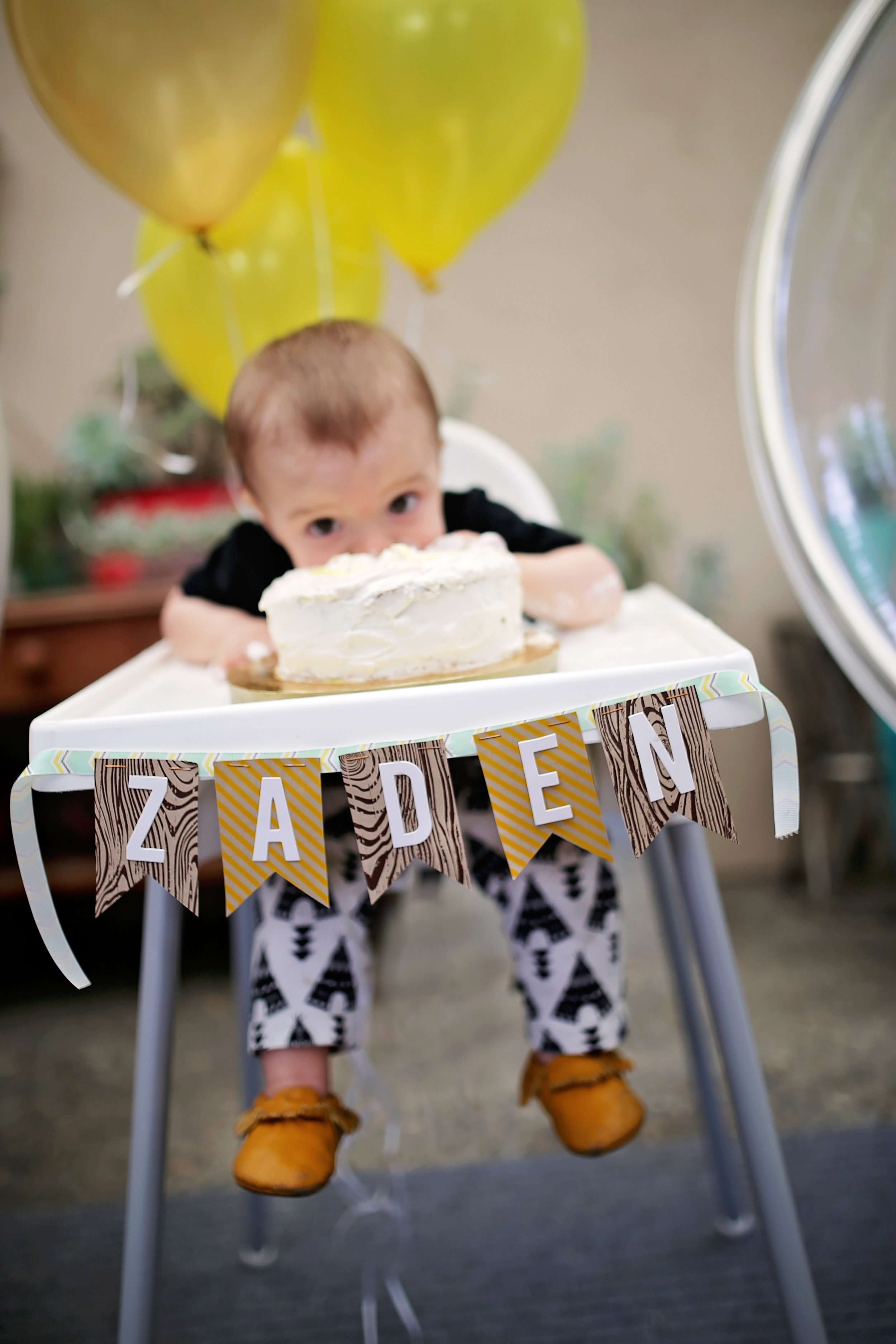 Birthday Balloons There's simply nothing easier than throwing a party with a balloon theme. That's right, get a bunch of balloons and call it a day! Trust me, there's nothing your one-year-old will love more (yes, you have to be careful and not let your baby get his or her hands on a popped balloon: <<choking hazard>> … but you can handle it). Send out Mixbook's 1st Birthday Celebration. To decorate for the event, have some balloons filled with helium to float and some without helium that just bounce around the floor. To keep the friends and family happy, simply take your favorite dessert and add a balloon motif – either a powdered-sugar balloon stencil on a flourless chocolate cake or cupcakes piped with balloon-shaped icing. It's simple, sweet and ultra-easy to pull off.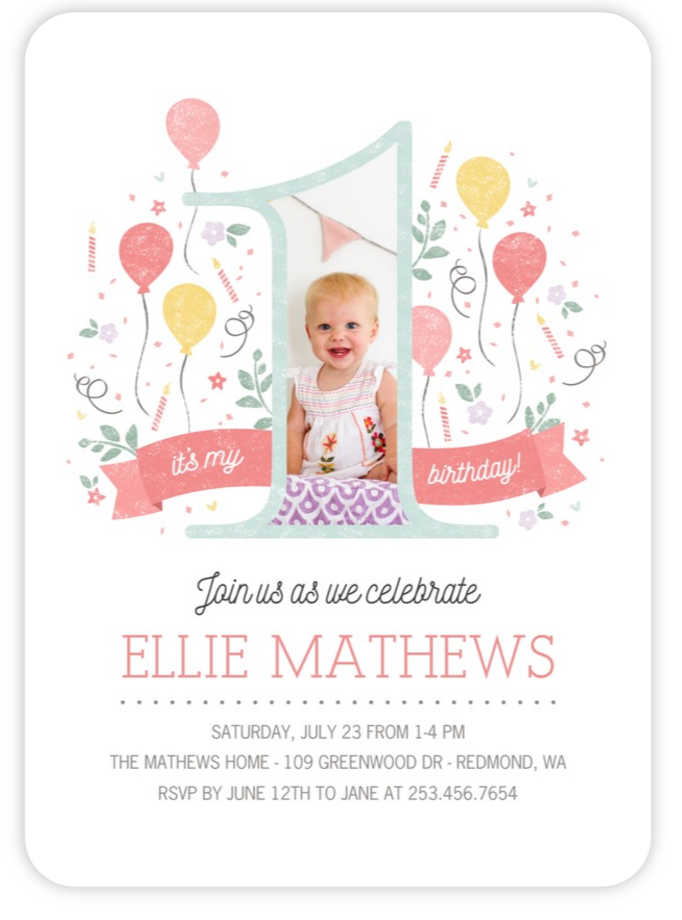 Happy Mixbooking! Happy Birth-Day, mama!