Designer DIY Challenge
Here at Mixbook, our motto is "beautiful design made easy." With the easiest online tool in the stationery and book building game, the customization possibilities are endless. It's all about giving our customers the ability to make something truly their own.
We decided to challenge our in-house design team to DIY and customize their own holiday cards from an existing theme. It was a great way to show our users how easy it was to make something beautiful, yet personal.
The Chosen Card
This chosen theme each designer must customize has three components: foil embellishments, a trendy background, colorful brush stroke stickers, and a simple greeting.
Our Designers:
Max - Lead Website Designer
Allison - Art Director
Amna - Production Designer
Ellie - Jr. Production Designer
Each individual has a different style and creative eye so we were excited to see what they would create.
Max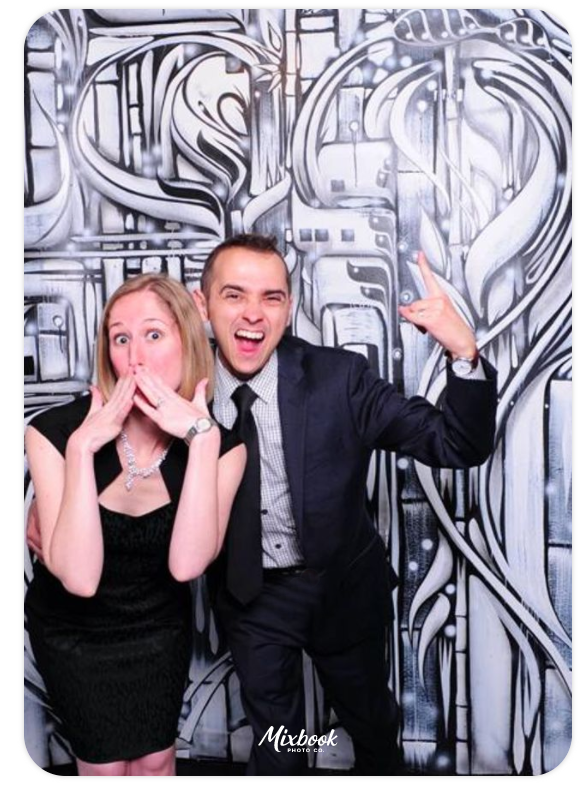 "I loved the black and gold combination that the foil frame created in combination with our holiday photo. Instead of using the card's original background I decided to bring in the golden dot background from our Modern Holly card to further extend the black and gold look. I also pulled the Happiest Holidays sticker greeting from Happy Mix Holidays to add a hand-lettered style message."
With Mixbook, you have the ability to pull art from different cards to mix and match your favorite looks. Just under the search bar under the backgrounds or stickers tab, click browse to see more art options from different themes.
If you don't want to browse through other themes, we recommend backgrounds and stickers upfront for quicker selection.
Allison
"I felt so inspired by this card that I made two! I created a personal card to send to my friends, and a family card to send to my extended family. I think everything looks better in rose gold (haha) so I changed the foil option to rose gold. I wanted a trendy hand-drawn design with a simple layout so the focus was on the fun photography. I removed the pastel brush stroke stickers to just show the small crossed background pattern. I added a handwritten greeting from the Happy Everything card. "
For my family card, I continued my rose gold obsession and chose a soft neutral watercolor background from the recommended offerings. I love the look of hand-lettered messages so the Merry and Bright sticker I designed in Adobe Photoshop and uploaded. I love that we allow customers to upload their own graphics. To finish my card I chose our Vintage Crest card shape."
Amna
"I love simple, modern and elegant themes so I decided to tone it down by removing the bright pink swatches and used a simple but elegant marble background I found in the recommended backgrounds. I love the little touches of gold--I thought it complemented the gold foil frame. I kept the greeting in the same font and style."
Ellie
"I just used one of the recommended background options on the editor then changed the greeting with new fonts, the modern font Futura for Happy Holidays and De Novembre for the Love signature. I changed the font colors as well. I love how green complements the gold and brings a more rustic/traditional feel to the greeting card."
As you can see our designers designed their cards in a variety of different ways per their various styles. The Mixbook editor allows for great customization options and recommended additions so your card will always be one-of-a-kind and beautiful.
Have fun playing with your holiday cards and happy Mixbooking!