Mixbook Save the Date Designs
OMG!(Translation: Oh My God!)
TMB AEAP!!(Translation: Text me back as early as possible!)
B/F asked ? (Translation: Boyfriend asked question)
FOMC! (Translation: Falling off my chair!)
So GR8! (Translation: So great!)
I said YES! (Translation: I'm getting married!!!!)
Some things, like modern day communication, have changed – other things, like sending out a save-the-date card when you get engaged, haven't.
Mixbook offers a cornucopia of save-the-date options for every couple out there. We understand that no two weddings are alike, just like no two couples are the same. One lovebirds' heaven is another couple's root canal, so whether you're planning a mountaintop declaration or a swank soiree in the city, we've got what you need.
One of the greatest designs of the season is the dramatic overlay. From diaphanous to definite, Mixbook's graphic artists have created a way to let people know the good news without compromising your photograph. It's a bold choice that can work for an array of celebration styles.
Clean, precise and contemporary is also on trend for this year and Mixbook recognizes the popularity of the theme by offering a multitude of options. From rounded corners to gallery-white, these cards make sure that your announcement is the main event. Designs can be as casual or as formal as you choose with typography and art design to match.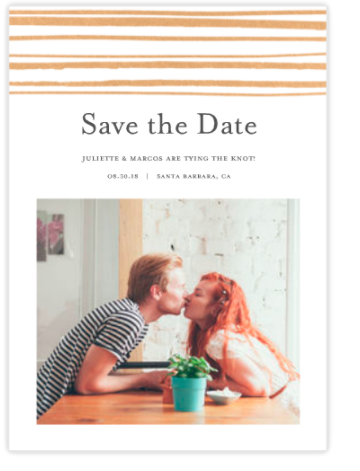 Retro-modern is a perennial favorite and Mixbook kicks it up a notch with small touches that leave lasting impressions. It's all in the details - from faux leather photo corners to mixed presswork - Mixbook knows that it's the little things that count.
And for the rest of Mixbook's designs… well, sometimes you just want to have a save-the-date card so beautiful you know it will get posted on refrigerators from here to Kentucky.
Or a rustic nod to the wedding you've always dreamed about in Uncle Harry's apple orchard:
Or a collage of shots that sum up all that parts that equal the two of you:
Or a card that's so cute your guests will already be in the spirit of your celebration when they see your save-the-date:
And just in case you have any questions…
BM&Y IMNSHO (Translation: Between me and you in my not so humble opinion…)
PLZ send out UR Save the D8 Cards ASAP (Translation: Please send out your Save the Dates Cards as soon as possible)
TMOT! (Translation: Trust me on this!)
H&K (Translation: Hugs and kisses)